Last Wednesday while Vicki and Lindy, our HASCI Drop in Center clients and I were approached by two Harley riders and Veterans during a sort of Field Day outside where we were doing relay races, etc. our drop in Center at work. The veterans informed us that the motorcade transporting the Moving Viet Nam Wall would be passing by in 15 minutes on it's way to the TD Center - a huge exhibition center, here in Greenville, South Carolina. Staff ran back inside to get phone cameras and we all went up to the sidewalk to watch. In no time an entourage of motorcycles, led by three police cars, rode by, American, POW, MIA flags flying. A helicopter flew overhead. The local motorcycle clubs had volunteered to escort the Moving Wall. Very much uneducated on the Wall, except for seeing the one in Washington on the news, we had expected to see the Wall. But it was in on a covered flatbed trailer. It wasn't until Kendall, my grandaughter and I visited the wall on Saturday, June 30th, that we realized why. The wall is huge! It's a half size replica of the Vietnam Veterean's Memorial in Washington, DC which has been traveling the country since 1984, two years after The Washington Vietnam Veterans Memorial was built.
The Moving Wall stands 6 ft. in height at the center and gradually tapers to 4 ft. panels at each end. Each wall of the two that make up one structure is 126.2 ft in length, for a total length of 252.4 ft., slightly less than the length of a football field. The three-sided replica is large enough to invoke an incredibly powerful and moving experience, and summons an intense feeling of loss.
A sign greeted us in the 101 degree heat, informing us that in the pop up tent just a few feet further, volunteers would help friends and families of veterans find their names. They have a computer set up, where they bring up the information and a Marine volunteered to help us find the name among the 58,228 names which includes the addition of three names to the Wall in May 2002, the same as the Wall in Washington, DC.
As we walked along the very lengthy walk, past the names which are carved in order of dates each servivemen died, starting with the first, up to what appears to be black granite slab 22, we talked and when I mentioned Peter, a member of the 101st Airborne had been killed by a sniper, only a week after Hamburger Hill, just I wish I remembered his name because he was exceptionally caring and kind. When he found my cousin's name - Peter V. Balzonis - he offered us a sheet of paper with information about my cousin and his death ( called a casualty summary) and a massive pencil and then he helped my niece do a rubbing of Peter's name. I was surprised at the rush of emotiona I felt. After 43 years,. the memory of when we received the news and the funeral all seemed like yesterday at that moment. At the funeral, we tried to absorb the shock of our family losing Peter, who was only 20 1/2 when he died. Even though I was only 19, I could see that everyone there couldn't help but imagine on how it was for him to die in a mountain jungle so far away.It was a sad synchronicity to learn that the first name on the wall of Richard B. Fitzgibbon, of North Weymouth, Mass. is listed by the U.S. Department of Defense as having a casualty date of June 8, 1956, was also a resident of Peter's home state, Tragically, his name is listed on the Wall with that of his son, Marine Corps Lance Cpl. Richard B. Fitzgibbon III, who has a casualty date of Sept. 7, 1965.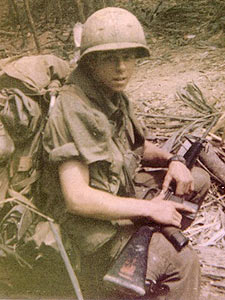 It was fitting that the Wall was set up outside. I'd expected it to be set up in the TD Center, which is a huge exhibition hall. But it was better to experience it outdoors, as those in Washington experience it. There were other people there, family, other veterans, some under umbrellas due to the sun and heat, some, even older men crying, as I was. Some had left mementos beneath their family member's name: flowers, photos and letters, a dog tag stuck in the crack of the wall near a name. It was heartbreaking, but also rewarding to see that our servicemen are not forgotten. I wish I'd thought to bring tiger lilies. They were Peter's favorite flower and they're blooming now. Peter's fiance couldn't make it to his funeral because she lives in England. She asked us to find some tiger lilies for his grave, but we couldn't. They were out of season and back in 1969 the florists in our area couldn't get such flowers. But still Peter's fiance offered his mother a treasured gift - a fact she did not know about her son, the solider.
By the end of 2002, The Moving Wall had been displayed in 867 communities from Hawaii to Alaska, in every state across the entire continental United States, as well as Canada and a visit to Puerto Rico in November of 1989. The Moving Wall visited Guam and the island of Saipan, located in the Northern Mariana Islands, in July 1993. Requests have come from Australia, New Zealand, Ireland and Germany.
The entire exhibition is well thought out and covers so much more than I expected. Besides the Wall,
there's a display of a soldier's gun set upright on it's bayonet stabbed in between his boots. His helmet is placed on the handle. It's a solemn reminder of the men or women who served. Besides the wall there is a huge panel display - great for an education on some of the wars and tragedies our country has had to deal with and needs to heal. There are panels on the Viet Nam War, World War II and the Wars in the Middle East. These walls are also powerful. There were five and a half, I think, each with hundreds of brass dog
plaques, similar to dog tags, attached to the wall.This was shocking to both Kendall and I and Kendall could relate to it more since some of her mother's friends have served and are still serving many tours in Afghanistan.
In addition, there were panels on Firefighters, Law Enforcement,
Other powerful and informative panels displayed texts and info on 9/11, Last but not least in Kendall's eyes were three panels showing each of the Presidents of the United States. Kendall loved these walls and wanted to read each President, but it got way to hot and we had to leave.
What is even more tragic is that shortly after my Aunt Chrissy gave my mother Peters Army shirt with it's 101st Airborne badges. Peter's brother, Vincent, a specialist who took care of Canadian Geese, was accidently killed by a friend when they were hunting. His friend walked in single file over a bridge with his rifle over his shoulder and the gun went off by mistake and shot Vincent. My aunt was never the same after these two deaths so close together in one year.
I inherited my Peter's jacket from my mother after she died in 2006 and am both honored and saddened to have it. If he had lived his children would have inherited it.
But I have to say, The Moving Viet Nam Veterans Memorial Wall has helped me to feel closer to Peter and his family and has powerfully brought home how brave these men and women were and how we must continue to remember their sacrifice and continue to teach younger generations about wars and tragedies which change the course and nature of America.